Data Entry & Data Storage Devices
Keyboard, Keypad, Mouse, PenPad, Hard Disk Drives, CD-ROM Drives, etc.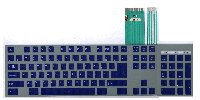 KP-101: Industrial Keypad with Card & Cord $159.50 [Order] [Checkout]
101-keys Keypad with controller card and cord. Keypad Dimension: 14" L x 4.25" W.



KB-W98: AT/PS2 Win98 Keyboard $14.95 [Order] [Checkout]
PS2 107-Key Keyboard with special keys for Windows98: PowerDown, Sleep, & Wake-up. Dimension: 463mmL x 165mmW x 33mmH, Weight 2 Lb. (0.9Kg). Includes: PS/2 to AT Adaptor.

---